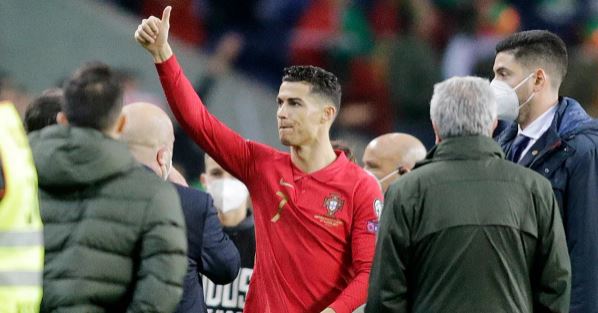 Ronaldo's message after realizing the deserved place
Sales assistant turned model, Georgina Rodriguez is the girlfriend of one of the all-time greatest footballers of all time, Cristiano Ronaldo.
She is a Spanish model, who pursued her career in modeling after meeting her beau, Cristiano Ronaldo, in 2016.
Who is Georgiana Rodriguez?
The Argentinan Bombshell, Georgiana Rodriguez is the girlfriend of Portugal and Manchester United Star, Cristiano Ronaldo. She is a Spanish model by profession.
After graduating from high school, she went to Madrid, Spain to attend dance classes and pursue her modelling career.
Where Georgiana Rodriguez was Born?
Cristiano Ronaldo's wife, is from Jaca, Spain. Although, she was born in Buenos Aires, Argentina.
Before meeting Portugal star, Cristiano, her modeling career was relatively quiet, she started to receive immense popularity and media attention after she got in a relationship with Cristiano Ronaldo.
Georgina's career highlight was her presence in the world's most prestigious magazine, 'Women's Health'
Georgiana is a well established professional model, she's an extremely popular figure on Social media. She actively posts fitness-related content on her Instagram account.
What is Cristiano's wife Georgiana Rodriguez age?
Cristiano Ronaldo Girlfriend Georgina Rodriguez is 28-years-old. She was born on the 27 January 1994 in Buenos Aires, Argentina to parents Jorge Rodriguez and Ana Maria Hernandez. She has a sister named Ivana Rodriguez, who herself is an Instagram star.
Who are the kids of Cristiano Ronaldo and Georgina Rodriguez?
Georgina Rodriguez and Cristiano Ronaldo have a 4-year-old daughter Alana Martina together. Besides their daughter, she is a mother to Cristiano's three other children, Ronaldo Junior, and twins Matteo & Eva Maria.
Ronaldo has always publicly appreciated and said of how good a mother, Georgina is to all the children, she loves each and everyone equally and also knows how to raise and take care of them.
How long have Cristiano Ronaldo and Georgina Rodriguez been together?
The couple have been together for almost 6 years now. They first met when the Portuguese star was 31-years-old and Georgina was just 21-years-old. While the Portuguese sensation inspires millions around the globe with his dedication, Georgina has been the biggest inspiration in CR7's life.
Being with someone so popular is not easy, says Georgina Rodriguez and in the past, Cristiano Ronaldo was accused of some serious crimes which the footballer denies. The couple together had to overcome many obstacles. However, she was always by his side despite these controversies. She is Cristiano's biggest supporter and a fan. This has been Ronaldo's most serious relationship to date.
However, there has been speculation about whether or not the couple will get married after being together for almost 6 years. Cristiano has hinted a little bit that he's planning on getting married to her girlfriend, Georgiana. However, The date is not revealed yet.
Where did Ronaldo and Georgina meet?
According to a British tabloid, Georgina first met  Cristiano Ronaldo at a Gucci store where she used to work as a sales assistant.
They again met each other in another event where they exchanged each other's phone numbers and got to talk to each other.
Georgina said that it was love at first sight for both, and ever since, the two have been inseparable.
The duo was first spotted together in late 2016 at Disneyland Paris where Cristiano disguised himself with a wig and sunglasses to avoid the paparazzi.
In January 2017, they officially came out as a couple for the first time during the prize ceremony for "The Fifa Best" ceremony in London, United Kingdom.
Ever since, Georgina was often spotted attending Real Madrid and Juventus matches and all the FIFA ceremonies cheering for his beau, Cristiano. She share a very good relationship Cristiano Ronaldo's mother, Dolores, sisters, and son, Cristiano jr.
What is Georgina Rodriguez's Net Worth?
Georgina Rodriguez has a net worth around $12 million as of 2022. She earns most of her fortune through her modelling career. She has signed a modelling deal with Uno Models in Madrid and has been on the cover of many magazines in the past.
She has also endorsed for numerous brands and  got featured on the cover of various magazines like VIP, LOVE, Nova Gente, Luz, and Diva E Donna magazines.
She also earns through her social media account. She has over 39 million followers on her Instagram account. She regularly posts glitzy pictures of herself. She also posts pictures along with her beau, Cristiano Ronaldo and his family.
As a professional model and social media star, she charges a whopping fee of $860K for her Instagram posts.